When it comes to brakes there is no denying that we need the darn things to work and we need them to be durable, have reasonable modulation and not require frequent bleeding. We recently did a custom hardtail build and for the build we grabbed a set of the Magura MT Trail Sport Brakes to handle the stopping duties. After 2 months of testing these bad boys. we thought we would pen our thoughts….
By Mike Branch
Product: Magura MT Trail Sport Brakes
RRP: $345 AUD
Available at: Chain Reaction Cycles and all good bike stores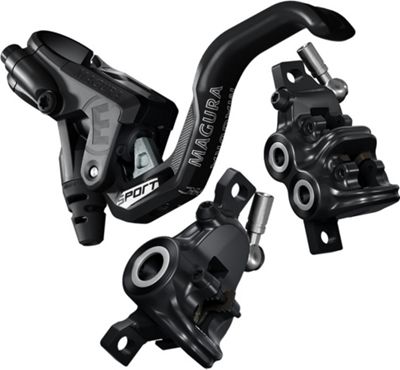 The Nitty Gritty
The Magura MT Trail Sport is a combo that delivers the Magura signature style and reliability along with a more budget friendly price tag. It's a set of brakes that will stop your bike but won't break the bank and is aimed squarely at trail or all mountain riders.
It features aluminum handle and lever blade with Carbotecture® body, providing a light weight feel whilst maintaining robust durability.
Front Brake: 4 piston caliper with Flip Flip one finger lever blade (255g)
Rear Brake: 2 piston caliper with Flip Flop one finger lever blade (230g)
Brake Fluid: Mineral Oil, Magura Royal Blood is recommended by Magura
Test Results
There's one thing we need brakes to do and that is stop the bike….right? Yes and no, there's many ways a set of brakes can perform and whilst nearly all brakes will stop you sooner or later, some do a better job than others. One thing we truly loved about the Magura brakes was how easy they were to bleed and setup, super simple, super effective and the lever action is excellent. The ergonomics of the levers was on point and they not only looked good but felt great. A few months of testing in differing terrain gave us some real insight into how they perform in a trail environment.
The Magura MT Trail Brake set performed well and braking power was great on moderate terrain, the four piston caliper on the front had great stopping power and did not leave us begging for more power on the front end. The rear dual piston brake caliper perfomed good in moderate terrain but when things got a little steep we did find it a little lacking. Don't get me wrong for a two piston caliper it performed exceptionally well and that should not be discounted, but for an extra 30g in weight you can have the power of a four piston caliper, something we think is well worth the weight penalty.
Modulation on the Magura MT Trail Sport brakes was great, it didn't have the pure stop go feel of Shimano, whilst steering clear of the sometimes 'over-modulation' of SRAM brakes. These brakes certainly worked well, felt great and looked right at home on the cockpit of our test bike. The one thing we did find was the lack of power of a two-piston caliper on the rear, something we would remedy with a four-piston caliper. If you don't ride the steeps too often and stick to moderate terrain, the necessity to swap out the caliper might not be there.
The Final Word
Brakes can be a personal choice and there is certainly a vast difference between Shimano, Magura and SRAM brakes. Some people swear by a brand but it all come down to what they feel like, how they suit your riding style and how effective they are. We found the Magura MT Trail Sport brakes to be a good value braking purchase for any trail bike build. The look and feel of the brakes were great, they bled eaily and were super easy to install. The only real factor we would improve is the braking power of the rear brake if you are chasing steeper terrain, by adding a 4-piston caliper instead of the two.
If you are chasing a new set of brakes for your trail bike and aren't in need of 4-piston front and rear calipers, then these brakes might be on point for you. As always, keep the brakes wide open and see you on the trails…..